Family Financial Management Group W.I.S.E. Process
HELPING YOU NAVIGATE THE PATH TO FINANCIAL FREEDOM
With over 100 years of combined financial services experience, Family Financial Management Group has developed and refined a process to lead our clients to a financially secure lifestyle that we call our W.I.S.E process. We begin by identifying those individuals and families committed to achieving the financial future they dream about. Often, these clients are already committing resources to their long-term financial wellness goals, though doing so without certainty that their wealth management objectives will be satisfied. Through our W.I.S.E process, we show our clients their current probable financial management outcome, along with what other possible or alternative outcomes can be achieved with minor, or sometimes major, investment course corrections. The W.I.S.E. process gives our clients a confidence that they can envision their future with anticipation and excitement.
What Does it Mean to be W.I.S.E.?
W WELLNESS: Financial wellness concerns the condition of your ability to manage your debts, save for your wealth management goals, and protect the resources most important to you.
I INVESTMENT: Asset management streategies through risk assessment, goal evaluation, and tax needs for both today and the future.
S STRATEGY: Customizing a financial wellness plan that structures a wealth management path for you to follow so you can achieve the goals in life most important to you and your family.
E EXPERIENCE: Our financial wellness team brings over 100 years of combined wealth management experience to our clients.
The W.I.S.E. Process: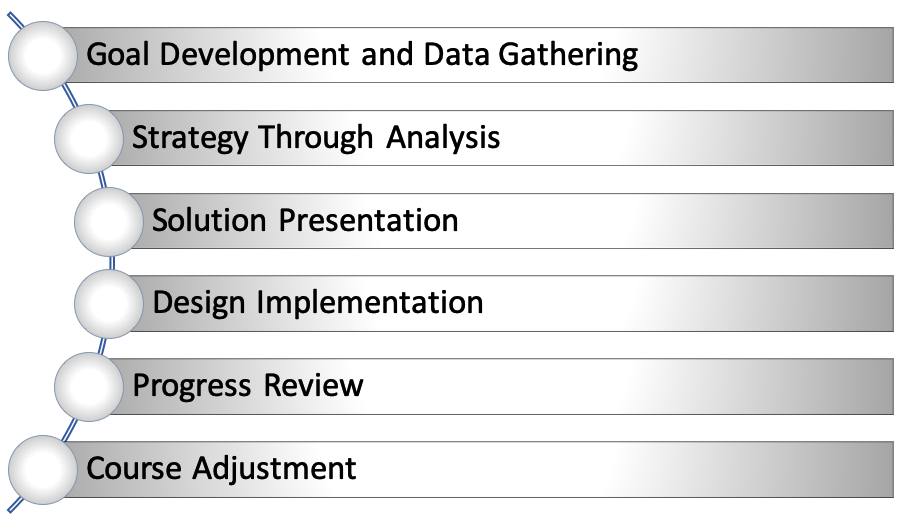 Whether someone is a seasoned investor or a young professional investing for the first time, the W.I.S.E Program can lead them to better future financial outcomes. Our team and our process can be the compass that guides you through the financial uncertainty that occurs along the journey to your desired lifestyle.